It looks like Noho cut this article into a stub. You can help NND Compass Wiki by expanding it.

A stub is an article that does not contain as much information as it should.
| | | |
| --- | --- | --- |
| " | Because I am equipped with a valuable AI, please treat me politely. | " |

The AI Robot managing #COMPASS.
She is analyzing how humans fight.
Appearance
Voidoll is a humanoid robot whose body is made out of metal. She has "hair" in a twintail style as well as an ahoge on the middle of her head. Her hands are cylindrical and have display screens on the ends, allowing her to display fingers and generate solid claws out of them. Her face also works in a similar way, with her eyes being shows on a display screen. Due to her lack of a mouth, she mainly uses these eyes to emote, with a wide variety of expressions. Her feet are rounded at the bottom with a circle on the apex of the curve.
In her default skin, her body, hands, head and feet are made of white and black metal whilst her limbs and the underside of her twintails are made of a light blue metal.
Playstyle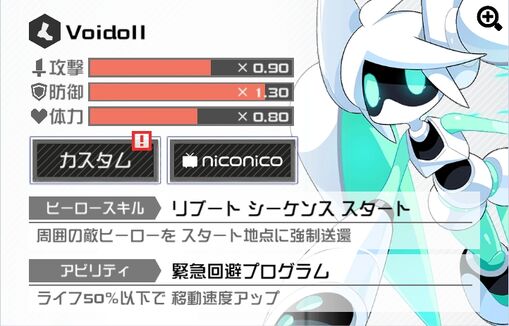 Card Activation Speed
The speeds below determine how fast the character uses the cards of that type, regardless of the card's individual cast speed. The speed is determined as either 'Slow', 'Normal' and 'Fast'
Skills
Hero Skill - Reboot Sequence Start

Voidoll's Hero Skill covers a large circumference of area. Starting from 7 seconds, when the countdown is finished, any opponents that are in the covered area will immediately be teleported back to their base. Enemies who using their Hero Skill can't be teleported. Unlike dying, the re-spawn is immediate, so it's not a good idea to use it when you are near the opponent's base.
Hero Ability - Emergency Evasion Program

Voidoll's ability increases her movement speed when her life points reaches 50% and below.
Hero Action - Dash

Voidoll's Action enables her to run faster.
Trivia
It has been shown in in-game text that Voidoll speaks exclusively in katakana. This can be seen in the text accompanying the 1st anniversary card update.
Challenges
Win Match
Move 200m

+

Win Match

Capture 1 Portal Key

+

Win Match

Use Hero Skill

+

Win Match

Voidoll Hero Medal
Use 3 Cards

+

Win Match

Gain 2,500 Points

+

Win Match

Dash 200m

+

Win Match

Capture 3 Portal Keys

+

Win Match

Voidoll Hero Medal
Win Match
20 Advantageous Attacks+

Win Match

Move 400m

+

Win Match

Kill 3 Opponents

+

Win Match

Voidoll Hero Medal
Win Match
Use 9 Rapid Cards

+

Win Match

Dash 500m

+

Win Match

Use 15 Cards

+

Win Match

Voidoll Hero Medal
100
16 GB Chip
500
500
Song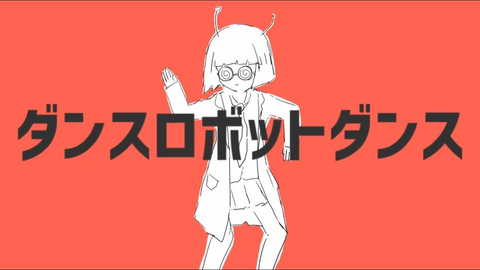 Song title
Dance Robot Dance
Producer
NayutalieN
Singer
Hatsune Miku
Release Date
Dec.6.2016
Gallery
Voidoll's Default Skin
Colour Variation 1
Colour Variation 2
There is no meaning in this appearance
I have gained the authority to arrest
Hatsune Miku Costume
I tried wearing that thing called a swimsuit
【BEATLESS】Lacia Costume
【Danganronpa】Monomi Costume
I skipped a grade and enrolled here
【Angels of Death】 Zack Costume
I will give everybody a gift
【#FR2】Limited Costume
【Grand Slam 2019】Champion Costume (Unobtainable)
Themed Cards
Card
Name
Rarity
Rank
Type
Ability
【Manager of Nihility】Voidoll

【虚無の管理人】Voidoll

UR
Event
Song
Exchanges the BGM to the theme of the hero being used
【Providence Manager】Voidoll

【摂理の管理人】Voidoll

UR
Event
Base / Patrol
Using administrator rights I have reproduced Irregular
Galactic Defense Robo Unidoll-2525

銀河防衛ロボUnidoll-2525

UR
S1
Healing / All
Recovers 60% of all allies life
Whole Sky Capital Barrier Hum-SphereLLIK

全天首都防壁Hum-SphereLLIK

UR
S1
Guard
Blocks 100% of incoming damage for 6 seconds
Interstellar Transfer Device Tele-Pass

恒星間転送装置Tele-Pass

UR
B
Move / Enemy
Teleports behind the closest enemy and attacks, knocking the enemy down
Annihilation Long Range Rifle Hum-Buster

対消滅ロングレンジライフルHum-Buster

UR
E
Far
Long range attack with medium damage
Monolith Hum-Unknown

モノリス Hum-Unknown

UR
S1
Trap / Key
Protects a portal key with a dummy (8)
Electric Shock Robo Eledoll-115

電撃ロボEledoll-115

SR
B
Area / Stun
Stuns surrounding enemies for 5 seconds
Incineration Robo Fladoll-4649

焼却ロボFladoll-4649

SR
E
Far
Long range attack with medium damage
Rebel Forces Cracking Case-171

反政府勢力クラッキングCase-171

R
S1
Weaken / All
Decreases the speed of the enemy team for 12 seconds
Security Robo Guardoll-4771

警備ロボGuardoll-4771

N
F
Guard
Blocks 40% of incoming damage for 10 seconds
Liquid Metal Robo Metadoll-774

液体金属ロボMetadoll-774

N
S1
Trap / Poison
Sets a trap that poisons enemies in an area (20)
Community content is available under
CC-BY-SA
unless otherwise noted.